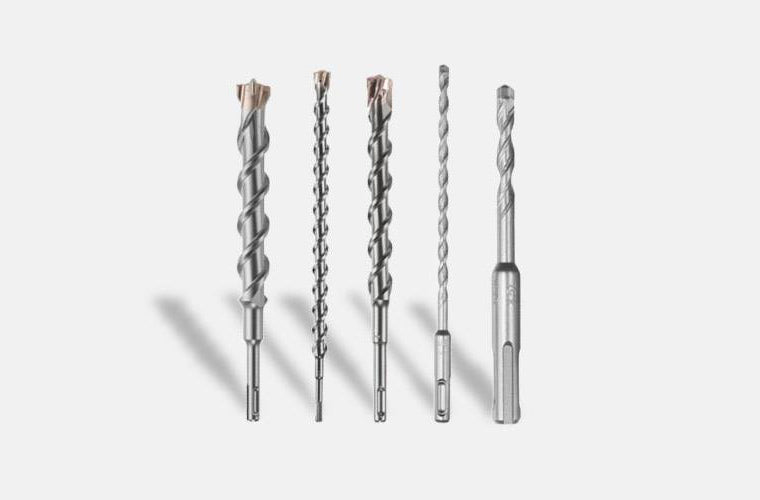 Difference between SDS, SDS Plus and SDS Max drills?
What are the differences between SDS, SDS Plus, and SDS Max drills?
The diameter of an SDS and SDS Plus shank is 10 millimeters. (The SDS Max is 18 millimeters.
The SDS shank has the advantage of fitting into a simple spring-loaded chuck, so that bits are simply pushed into the chuck without tightening. This shank and chucks made for it are especially suited to hammer drilling with masonry drills in stone and concrete. The drill bit is not held solidly in the chuck, but can slide back and forth like a piston; it does not slip during rotation due to the non-circular shank cross-section, matching the chuck. The hammer of the drill acts to accelerate only the drill bit itself, and not the large mass of the chuck, which makes hammer drilling with an SDS shank drill bit much more productive than with other types of shank.

The rotational drive uses the sliding keyways that open to the end of the shank, which mate with keys in the chuck. The smaller indentations that do not open to the end are grasped by the chuck to prevent the drill bit falling out. The hammer of the drill hits the flat end of the shank. The shank must be lubricated with grease to allow it to slide in the chuck.


There are three standard sizes of SDS: SDS-plus (or SDSplus or SDS+), SDS-Top and SDS-max. SDS-plus is the most common by count of tools manufactured, with masonry drills from 4 mm diameter to 30 mm (and from 5/32" to 1-1/4") diameter ordinarily available. The shortest SDS-plus masonry drill bits are about 110 mm overall length, and the longest 1500 mm. SDS-max is more common for larger rotary hammers and chipping guns, and common sizes start at 1⁄2 inch (13 mm) diameter up to 1 3⁄4 inches (44 mm) diameter. Standard lengths are 12 to 21 inches (300 to 530 mm). SDS-Top has been largely phased out in North America and is not common except for older tools. Hilti's TE-S system is similar to these SDS systems, but is designed for chipping only (no rotation) in tools for applications larger than could be handled by SDS-Max (e.g. demolition of concrete walls or floors).

The SDS bit was developed by Hilti and Bosch in 1975. The name comes from the German "Stecken – Drehen – Sichern" (Insert – Twist – Secure). In German-speaking countries, the back-formation "Spannen durch System" (Clamping System) is used, though Bosch uses "Special Direct System" for international purposes.

Relatively complex to manufacture
Better hammer drilling performance than rigidly gripped bits
Drills with a "rotation-stop" mode can use chiselling bits
One-handed quick chucking operation
Can only be held in an SDS chuck
Not very accurate centering
High torque transmission
Source: wiki