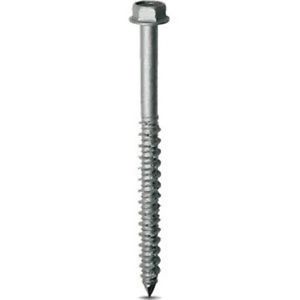 Stainless Steel Tapcon® Concrete Screws
410 Stainless Steel (see photo on left.)
Hex Head style on Tapcon Anchors is available for majority of fixture anchoring needs.
Phillips Flat Head style is available when flush seating is necessary in countersink applications.
Advanced Threadform cuts into concrete and masonry for reduced installation torque and increased pullout performance.
Lengths of Tapcon Anchors range from 1-1/4" to 4" in 3/16" and up to 6" in 1/4" diameters.
Nail-Type Point guides the anchor into the pre-drilled hole. Excellent for wood to concrete applications.
Showing 1 - 6 of 6 Results
Image
Title
SKU
Price
Qty