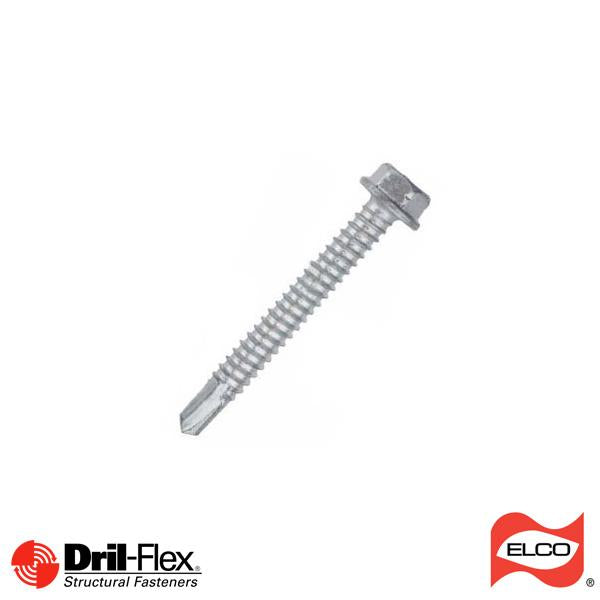 ELCO Dril-Flex Self Drilling Screws
Dril-Flex® Structural Self-Drilling Fasteners Offers virtual immunity to hydrogen-assisted stress corrosion cracking for maximum performance in the field
Dril-Flex fasteners are specially designed and processed to help prevent hydrogen-induced brittle failures. Each fastener undergoes the unique Flex Technology® dual-hardening process to ensure the optimal combination of ductility and hardness required for maximum performance in the field
Testing of this product, in accordance with ASTM standards, has proven that Dril-Flex fasteners provide the same resistance to hydrogen-assisted cracking (HAC) as a Grade 5 fastener.
Unique Hardening and Finishing resistance Processes Provide High Performance
Hydrogen-Assisted Stress Corrosion Cracking (HASCC) refers to a time-delayed failure that is aggravated or accelerated by hydrogen generated in the application. This is most often encountered and associated with dissimilar metal applications through the galvanic corrosion process. Most self-drilling fasteners, including 410 fasteners, are case or similarly hardened, which provides the necessary hardness for drilling and tapping, but leaves the screws vulnerable to HASCC due to their high surface or core hardness.
Dril-Flex fasteners offer the unique Flex Technology dual-hardening process. The self-drilling point and lead tapping threads are selectively hardened to a minimum of HRC 52. The load-bearing portion of the screw is held at or below the critical HRC 34 level. This reduced hardness level also meets SAE J429 Grade 5 and ASTM A449 strength and ductility standards.
Dril-Flex fasteners are then coated with silver Stalgard finish to provide superior corrosion resistance and enhanced galvanic compatibility. Fasteners coated with Stalgard finish typically show no red rust or other base metal corrosion on significant surfaces even after 1000 hours of 5% neutral salt spray exposure (ASTM B117).
The combination of this unique dual-hardening process and Stalgard finish results in a strong, reliable fastener that can be used where other self-drillers would fail. Dril-Flex self-drilling fasteners are the ideal fastening solution for demanding construction applications.
Features
• Self-drilling point
• Higher hardness (HRC 52 min.) point and lead threads
• Lower-hardness (HRC 28 – 34) load-bearing threads
• Silver Stalgard multi-layered corrosion resistant finish
Benefits
• Virtually immune to delayed HASCC brittle failures found with other hardened fasteners
• Provides the same high resistance to hydrogen-assisted failure as a Grade 5 fastener
• Precision self-drilling point ensures consistent, reliable drilling and tapping
• Eliminates separate drilling and tapping operations
• Corrosion resistance superior to zinc- or cadmium-based finishes
• Provides enhanced galvanic compatibility in dissimilar metal applications
• Approvals: ICC ES ER-4780 Legacy Report; COLA (City of Los Angeles) Research Report #25095