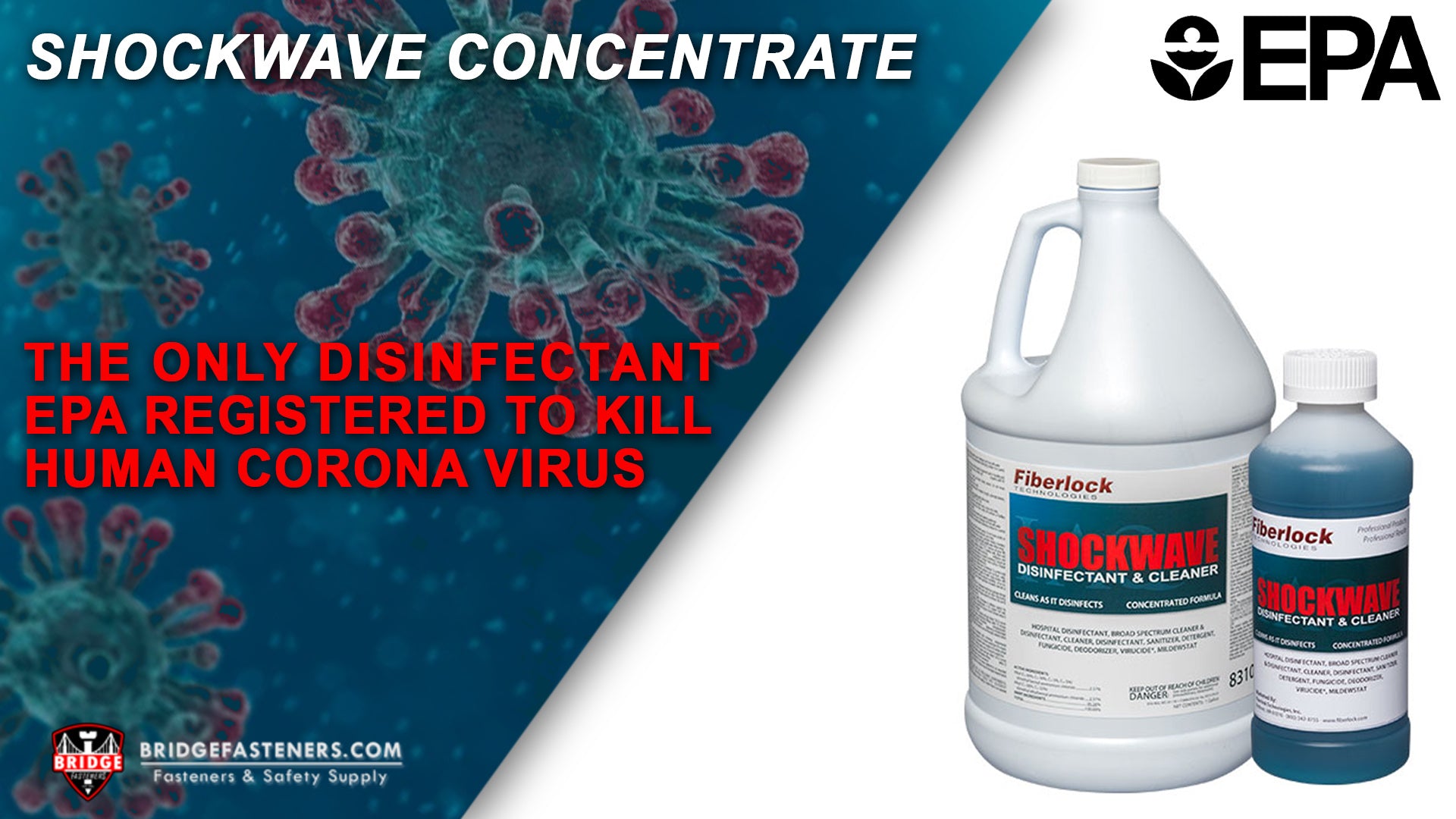 What disinfectant kills the Novel Coronavirus?
What disinfectant kills the Novel Coronavirus?
Amid the outbreak of coronavirus many people have been trying to understand what exactly kills the virus effectively, the answer is not many products are official EPA registered to kill the virus. 
In fact, rubbing alcohol is supposed to be around 70 percent effective at killing Coronavirus.
Right now, the only product EPA registered to kill the Coronavirus is Fiberlock Shockwave.
You can purchase Fiberlock 10oz at Bridge Fasteners! (makes 5 gallons of disinfectant) 
Click here to goto this product: Purchase now
• Effective in 98% soil load • Over 130 organism kill claims • Effective in 791 ppm hard water
• Approved for use against H5N1 Avian Flu •Approved against Novel Coronavirus
•Registered for sewage/black water remediation • Sanitizes porous and disinfects non
Kills Coronavirus!
EPA confirmed 99.99% effective against the Novel Coronavirus. 
1 of 2 product's current EPA registered to kill the Novel Coronavirus
Put into a spray bottle or a bucket, makes up to 5 Gallons of disinfectant 
Makes 5 Gallons when added to water
How to use:
ShockWave is designed to be diluted two ounces per gallon of water, yielding 64 gallons of usable product per gallon of concentrate, making it an economical solution for your cleaning, disinfecting, and sanitizing needs. ShockWave is available in 1-gallon containers and in convenient 10-ounce bottles that make five gallons of usable product.
ShockWave concentrate is designed to be economical and efficient. ShockWave concentrate should be diluted with water before use.  Do not use full strength. ShockWave is also available in ready-to-use.
Add 2-4 ounces of ShockWave per gallon of water.*
Each gallon will cover approximately 1000 square feet of surface.
To disinfect or sanitize, first clean the surfaces of all contamination including mold, mildew and dirt using ShockWave.
Apply a second application of ShockWave to the cleaned surface. Use enough ShockWave so that the surface will remain wet for at least 10 minutes.
For detailed instructions see bottle label or visit www.fiberlock.com/mold/8310.html
Your local disaster relief agencies can advise you on proper Personal Protective Equipment for flood and mold cleanup.
ShockWave Fiber lock Concentrate is an EPA-registered, quaternary ammonium chloride cleaner, disinfectant, and sanitizer designed for use on various surfaces subject to microbial contamination. ShockWave is a Ready-To-Use formula that will disinfect hard, nonporous surfaces, and also sanitizes porous and semi-porous surfaces. ShockWave  is especially useful as an all-in-one product for treating wood structural members, carpets, and other porous and nonporous surfaces as part of a complete mold remediation project.