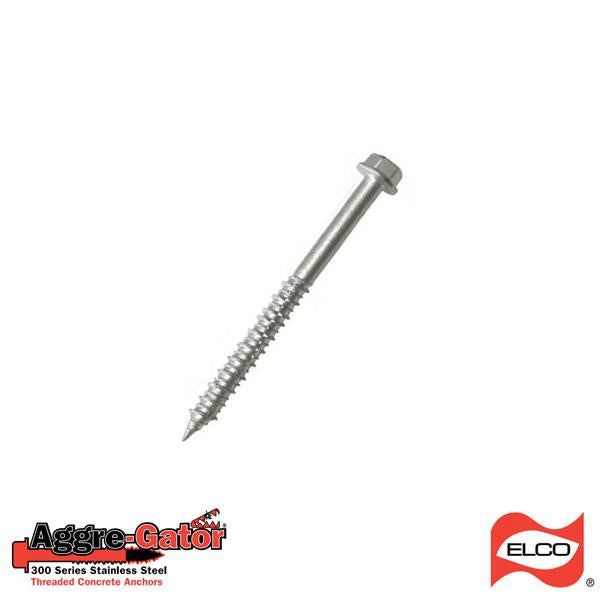 ELCO Aggre-Gator® 300 Series Stainless Steel Screws
26 Feb, 2019
in

Technical Data
Aggre-Gator® Bi-Metal Fasteners: The corrosion resistance of 300 series stainless steel in a threaded concrete anchor
Owners, architects and, design engineers expect longer life cycles from buildings. Extended warranties and use of more sustainable materials add up to greater expectations for performance – from structural integrity to the purely aesthetic – of all building components.
The Solution: Aggre-Gator Bi-Metal Threaded Concrete Anchors
Made of 300 series (18-8) stainless steel alloy to provide unmatched corrosion resistance in your toughest applications
Fused and hardened steel tapping threads make installations easy and hold tight in block and poured concrete
Coated with silver-colored Stalgard® GB, a Galvanic Barrier to protect aluminum components from accelerated corrosion when in contact with 300 series stainless steel
Gimlet point provides quick starts, and makes Aggre‑Gator anchors an ideal choice for treated, wood-to-wood applications
Applications:
Exposed anchoring/coastal/wet areas
Aluminum enclosures
Hurricane shutters/windows/awnings/thresholds
Curtain wall & window wall support anchors
Stone facade support
ACQ-treated wood
You won't find a better, easier-to-install or more reliable 300 series stainless steel anchor for your toughest construction applications than Aggre-Gator bi-metal concrete anchors.
Features:

Bi-metal technology – 300 (18-8) stainless steel head and shank
Fused and hardened steel tapping threads and gimlet point
Alternating, hi-low notched thread profile
Silver-colored Stalgard GB coating
Hex washer head and TrimFit® flat head designs

Benefits:

 

Outstanding corrosion resistance
Long service life
High strength and ductility
Offers greater galvanic compatibility in dissimilar metal applications involving aluminum
Thread profile provides quick cutting and stability during installations
High in-place value over life of structures
The Ideal Solution:
Unmatched, multi-level corrosion resistance
Quick and easy installs into concrete or masonry
Perfect choice for exposed/wet areas/aggressive environments, such as coastal areas
High performance for your most critical applications